Ayurvedic Vegetarian Recipes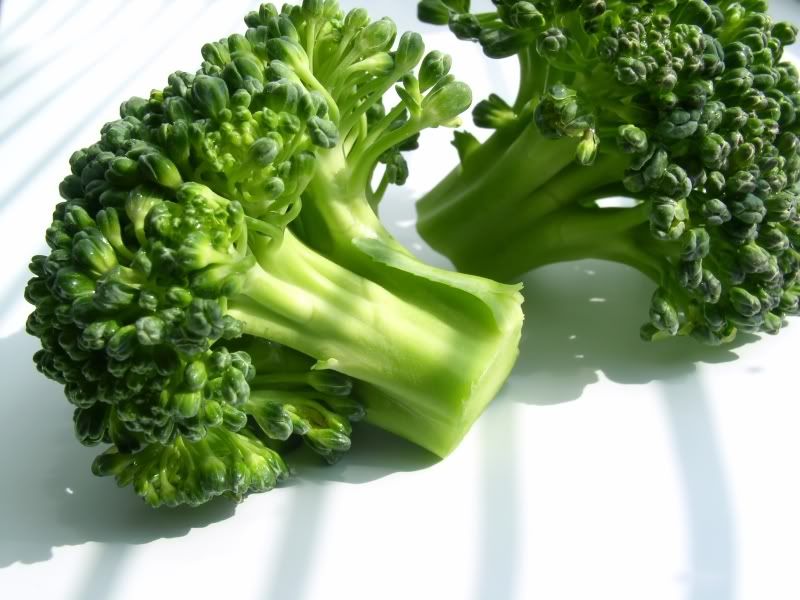 Ayurvedic cooking offers some wonderfully new and unusual ways to cook vegetables.
SAUTÉED BROCCOLI
5 cups chopped broccoli
1–2 Tbs. ghee (directions below)
1/2 tsp. mustard seed
1/4 tsp. cumin seed
1/8 tsp. hing (available at Indian or international stores, also called asafetida)
1 clove garlic, minced
1 tsp. turmeric
2 tsp. coriander powder
3/4 tsp. sea salt
1 Tbs. fresh lemon or lime juice
Chop broccoli into 1/2 inch pieces (yes, that is small). Heat ghee in a large, heavy skillet, then add mustard and cumin seeds, hing and garlic. When the mustard seeds begin to pop, add the turmeric and then the broccoli. Stir well to coat. Add remaining ingredients and mix well. Cook uncovered until broccoli is tender, but still bright green, around 10–15 minutes. The smell of this cooking will stimulate your appetite.
This dish works well with rice, soup, and with some meats like chicken and denser fish.
GHEE
(This is also called clarified butter.) Take 1/4 to 1 pound of butter and melt over a low heat. As it heats, notice the milk solids that come to the surface and fall to the bottom. The clear stuff in the middle is the ghee. Heat until there is definite separation, remove quickly from heat, and allow to cool for a few minutes. Skim off any scum at the surface and pour the clear liquid into a container. Ghee will keep in the refrigerator for many months. (Discard the milk solids.)
DARK LEAFY GREENS
 1 bunch dark leafy greens (collards, kale, mustard, turnip, dandelion)
 1/2 to 3/4 cup water
 1 tsp. sunflower oil or ghee
 1/2 tsp. whole cumin seeds
 1 tsp. coriander powder
Wash and chop greens, taking out the stems. Steam greens over hot water on low heat until tender, about 7–15 minutes. Drain. (You may save the water, if it's not bitter, for soup.)
Heat oil in small sauté pan over low heat. Add cumin seeds and as they brown, stir in coriander. Brown the mixture. Pour over the drained greens and mix well. Serve immediately.
GREEN BEAN BHAJI
 4 cups fresh green beans
 1 Tbs. sunflower oil or ghee
 1/2 tsp. black mustard seeds
 1/8 tsp. hing
 1 tsp. turmeric
 2–6 Tbs. water
 1/2 tsp. sea salt
 1 inch fresh chopped ginger root
 1 small fresh green chili pepper (great for taste, may omit)
 1/2 cup chopped fresh coriander leaves (cilantro)
 shredded unsweetened coconut
Wash beans and chop into one-inch pieces. Warm oil or ghee in large skillet with lid. Add mustard seeds and warm until they pop. Add the turmeric and hing and stir well. Add chopped green beans and 2–3 Tbs. water. Cover and cook on low until beans are tender (15–30 minutes). Put the remaining water and ingredients into blender and puree. Pour over the beans and mix well. Simmer for 1–2 minutes until well mixed. Garnish with coriander leaves and coconut.
CUMIN ZUCCHINI
 2 medium zucchini
 3 shitake mushrooms, dried
 2 Tbs. ghee
 1/2 tsp. whole cumin seed
Soak mushrooms in a cup of water for 10 minutes or until tender. Heat ghee in medium-sized heavy skillet. Add cumin seeds and heat until they brown. Wash and slice zucchini. Drain and slice mushrooms. Add zucchini and mushrooms to mixture and stir, cooking for 5 minutes on medium heat.
FRESH DILLED ZUCCHINI
 2 medium zucchini
 1 bunch fresh dill
 2 Tbs. sunflower oil
 1/2 tsp. turmeric
 1/8 tsp. hing
 1/2 tsp. water
 1 Tbs. barley malt or brown rice syrup
 2 Tbs. fresh lemon juice
 1-1/2 tsp. coriander powder
Wash and finely chop dill. Wash zucchini and cut into one-inch slices. Heat oil in medium-size heavy skillet. Add turmeric, hing, zucchini, and water. Cover and cook 5 minutes. Add remaining ingredients and cook 5 more minutes. May top with yogurt for a different taste.
SWEET STEAMED BEETS
 4 cups raw beets (5–6 medium beets)
 2 Tbs. ghee
 2 Tbs. fresh lemon or lime juice
 1 Tbs. coriander powder
Wash and slice the beets into 1/8- to 1/4 inch slices. Pour one inch of water in the bottom of a heavy medium-sized pot and add steamer. After bringing to a boil, add beets and steam until tender, about 20–25 minutes. Drain.
Melt ghee in small pan. Add lemon juice and coriander and mix well. Pour over beets and serve.
SWEETENED CARROTS
 4 cups sliced carrots (4 medium)
 1 Tbs. sunflower oil
 1/2 tsp. mustard seeds
 1/2 tsp. turmeric
 1/8 tsp. hing
 1/2 tsp. sea salt (or less)
 1 tsp. coriander powder
 1/4 hot green pepper, chopped (optional)
 3 Tbs. water
 1 tsp. maple syrup
Wash and slice carrots. In heavy skillet heat oil and add mustard seeds. When they pop, add turmeric, hing, carrots, salt, pepper, and coriander. Cook, uncovered, over medium heat, stirring frequently for 2–3 minutes. Add water and maple syrup. Cover and cook for 5 minutes over low heat.
CURRIED NUT SOUP
 1 Tbs. butter or 2 Tbs. olive oil
 2 large cloves crushed garlic
 1 cup finely chopped onion
 2 Tbs. freshly grated ginger root
 1 tsp. sea salt
Sauté the above ingredients in a large kettle over medium heat.
 1 cup chopped raw nuts (peanuts, almonds, etc.)
 1/4 tsp. cinnamon
 1/4 tsp. cloves
 1/4 tsp. ground cardamom or coriander
 1/2 tsp. dry mustard
 1/2 tsp. turmeric
1 tsp. ground cumin
Add these ingredients and sauté, stirring, another 8–10 minutes over lower heat.
 2 cups vegetable stock or water
 1/2 cup natural nut butter
 1 Tbs. honey
 cayenne pepper to taste (1/8–1/2 tsp.)
Mix together thoroughly and add to the sauté mixture. Mix well and simmer, covered over very low heat, for one hour. Stir occasionally to prevent sticking. Just before serving whisk in:
 1-1/2 cups buttermilk (at room temperature to prevent curdling)
Top with the following mix, or invent your own.
Topping
 2 green bananas (you wouldn't eat them for another 2 days)
 juice of 1 lemon
 3 Tbs. butter or olive oil
 1/4 tsp. cardamom
 1/4 tsp. turmeric
 1 Tbs. sesame seeds
Slice bananas and marinade in lemon juice for 10 minutes. Heat the butter, add bananas and other ingredients, and sauté over low heat for about 5 minutes. This is spooned onto the bowl of soup just before eating. You may experiment with other fruits instead of bananas. Raisins are good added to this topping, and apricots and apples are too.
Serve the above soup with a rice dish for a great meal combination.
RICE AND GREEN PEA DISH
 2 cups brown rice
 3 cups water
 2 cups freshly steamed peas
 1/2 cup onion, sliced and steamed
 1 cup sweet red pepper, sliced and steamed
Cook the brown rice in 3 cups of water until tender. Usually takes 35–50 minutes. Toss with vegetables and season to taste with salt, black or white pepper, and cayenne.
If a meal does not feel complete without bread and butter, try bread and olive oil in place of butter. You can also soak herbs in the olive oil for a few days: basil, rosemary, garlic. Or try flat bread and yogurt dip for a more exotic taste.
YOGURT DIP
 2 cups yogurt
 1 cucumber, seeded and finely minced
 1 sweet yellow or red pepper, seeded and minced
Season to taste. Some options include:
 cumin and garlic
 dill
 basil
 cayenne
 honey
 lemon juice
This dip is great with flat bread or with raw vegetables or fruits.