Aura Cacia's Lavender Harvest, Mommy's Secret Weapon
by
Kitchen Table Medicine
in Herbal Medicine, Kat Lee, Kitchen Sink, Pediatrics, Sleep
December 17, 2008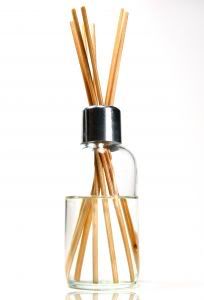 By Kat Lee
I have friends whose children drop off to sleep peacefully, alone, and fast; and I must confess that I secretly hate them. Okay, hate is not really the right word, but I seriously envy them.
My children require ninja mommy skills when bedtime arrives. If your children are like this, then you totally know what I mean by that.
You carefully arrange everything: mood, lighting, temperature. Then, you must sit nearby (or completely underneath and entangled between) your children until they become unconscious.
Now comes the tricky part – extricating yourself from this situation so that you can watch Heroes. You slowly twist and pull and wrangle yourself free from the children, then quietly tiptoe out of the room like a midnight assassin.
Sound familiar? If so, then I have just discovered a secret weapon that you may be interested in: Aura Cacia's Lavender Harvest essential oil. The other night I placed one of their neat pocket diffusers (full of lavender) into the kids' bedroom a bit before bedtime.
They lay down, as usual, and I sat nearby (not even an arm around them!) to see what would happen. They chatted a bit, then quieted down… then they fell asleep. I tiptoed out of the room in utter amazement. Who knew something as simple as lavender could be so effective?
I can assure you that this ninja mommy will never be caught without a supply of lavender oil again. That and Benadryl (just kidding).