Corn Syrup, Is it Really Just Like Sugar?
by
Kitchen Table Medicine
in Diabetes, Dr. Scott Olson, Guest Posts, High Blood Pressure, Holistic Nutrition Tips, Kitchen Sink, Sugar, Weight Gain
January 30, 2009
The Corn Industry is spending massive amounts of advertising dollars trying to convince us that high-fructose-corn syrup is just as "good for you" as sugar. But does it really matter? Let's talk to Dr. Scott Olsen about the differences between sugar and high-fructose-corn-syrup.
In your medical opinion…what is worse:  Sugar or high fructose corn syrup?
Dr. Olsen: This is a little like asking if you would rather be shot or stabbed: both are bad. There is a lot of stir in the media lately about high fructose corn syrup and how it is different than sugar and the research on corn syrup does show it behaves differently in our bodies.
What you need to know about fructose is that the body can't use it, so whenever you consume fructose, the body has two choices. The first is that it can convert the fructose into glucose and then the body can use the glucose to power all its energy needs. The second choice is that the body can choose to store the fructose as fat.
There is some evidence that the body finds it easier to make that second choice: turning the fructose into fat. (11)  Since our consumption of high fructose corn syrup has increased dramatically in the last few years along with the rate of obesity, it makes us wonder if fructose is to blame.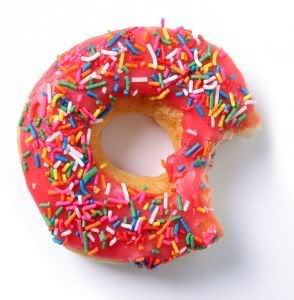 FRUCTOSE ALSO:
Creates harmful proteins, called glycated proteins, much easier than glucose.(12)
Leads to insulin insensitivity (and, therefore: diabetes and obesity as well).(13)
Contributes to hypertension (high blood pressure).(14)
While avoiding both sugar and high fructose corn syrup is probably your best health choice, keeping high fructose corn syrup out of your diet is the next best step.
Notes:
11. Bray GA, Nielsen SJ, Popkin BM: Consumption of high-fructose corn syrup in beverages may play a role in the epidemic of obesity. Am J Clin Nutr. 2004 Apr;79(4):537-43.
12. Colaco CA. Sugar and coronary heart disease, a molecular explanation. J R Soc Med. 1993 Apr;86(4):243.
13. Miller A, Adeli K. Dietary fructose and the metabolic syndrome. Curr Opin Gastroenterol. 2008 Mar;24(2):204-9.
14. Johnson RJ, Segal MS, Sautin Y, et al: Potential role of sugar (fructose) in the epidemic of hypertension, obesity and the metabolic syndrome, diabetes, kidney disease, and cardiovascular disease. Am J Clin Nutr. 2007 Oct;86(4):899-906.