Dying to Look Good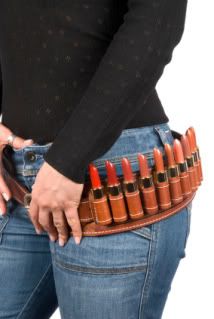 By Bobbie Laing
Many people may not realize that our skin, the largest organ of the body, absorbs virtually everything we put on it.
I have dry skin and hair. As a result, I need lotion and lip balm several times throughout the day, and I need to use good conditioners and products to control my naturally curly, sometimes frizzy, hair. For years, I had been using everyday products we all see on our grocer's shelves. That changed when I saw the first studies that came out about the contents of our skin care products, and cosmetics, and the lack of regulation on so many of them. I was alarmed, to say the least.
My first reaction was to look over some of the products that I use, like the lip balm that I had used for years. One of the main ingredients was Petrolatum! What I found in the lotions was even worse. Since then, I have become very aware of what these products contain and how they can affect my body.
Sure, we can live without some of these things, like perfume; (or better yet, make your own). However, there are many things that we, and our families, must have. We need hand soap, toothpaste, lotion, body wash, and so many more things we depend on every day.
It is difficult, though, to find safe products with so much conflicting information out there that is always changing. The industry continues to put out products with new chemical ingredients that have yet to be tested; and the disturbing truth is that they do not have to wait for these tests before putting their product on the shelves. As Dr Farlow states in her book,
"The Federal Food, Drug, and Cosmetic (FD&C) Act does not require cosmetics and personal care products or their ingredients to be approved before they are marketed and sold to consumers. FDA regulation starts after they are already in the marketplace."
In Dying To Look Good, Dr Christine Farlow has put together an extensive reference guide that is easy to use and take with you when you shop for your cosmetics and other skin care products. The book has information on over 1300 cosmetic and personal care product ingredients, as well as a section on "recommended" products.
This book is not just about the cosmetic industry; it is about many of the products we put on our skin like antibacterial soaps, sunscreen, acrylic nails, make-up, and even hair dyes. It details many of the ingredients found in these and other products that we use literally every day.