How to Lower your Estrogen Levels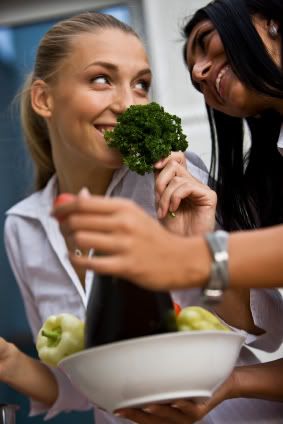 Many diseases are affected by high levels of estrogen including fibrocystic breast disease, ovarian cysts and premenstrual syndrome or PMS. The liver is important in breaking estrogen down into an almost totally impotent form. It also converts estrogen into compounds that can be excreted from the body through urine and bile. The purpose of this diet is to support the liver, to reduce sources of estrogen found in foods, and to support other glands such as the adrenal glands an the thyroid gland that influences estrogen.
THE DIET
• Eliminate sugar, white flour, and refined foods.
• Eliminate methyl xanthines such as coffee, tea, chocolate, colas and other foods or beverages that contain caffeine.
• Eliminate red meat and fowl. Organically raised fowl is OK.
• Decrease fats, especially animal fats. Use instead unsaturated fats such as those in cold pressed vegetable oils.
• Increase foods found in the cabbage family such as cabbage, brussel sprouts, cauliflower, etc. As the Indole 3 Carbinole helps aid in the detoxification of estrogen to a less active form.
• Decrease dairy products such as milk, cheese, cream, etc.. This helps maximize thyroid function.
• Increase complex carbohydrates such as vegetables, whole grains, etc..
• Increase the consumption of garlic and onions.
• Be sure you are taking adequate amounts of selenium, iodine, beta-carotene and vitamins A, C and E. Consult your clinician to determine this.
Source: Bastyr Students
Edited with permission by Dr. Nicole Sundene
Dr. Nicole Sundene, NMD
is a licensed Naturopathic Medical Doctor at Fountain Hills Naturopathic Medicine 16719 E Palisades Blvd, Suite 205, Fountain Hills, AZ 85268.
She believes we should utilize natural medicines to treat the root cause of disease rather than just treating symptoms, as symptoms are a message of imbalance sent from the body and will persist until they are properly addressed.
For appointments please visit
http://FHnaturopathic.com
for more information about Naturopathic Medicine services.
©KitchenTableMedicine.com, LLC ™