Kiss My Face Fragrance Free Lotions
by Kat Lee

Kiss My Face Olive and Aloe
My hands are not normally very dry, for which I am thankful; but when winter hits, my hands get dry and start to itch. And of course, every year, I scratch them. I know I shouldn't but I do. Then, when I decide to put on some lotion, what happens? They BURN! Like fire. And brimstone (whatever that is).
I've tried unscented lotions before but for some reason, they still burn (and the lotion still smells). My husband already deals with dry skin, so in the winter it's even worse. He just deals with the fact that most lotions will burn. I said "most", because I've found one lotion that does not.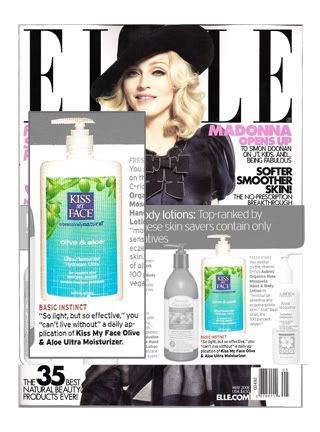 Kiss My Face makes a fragrance-free lotion called Olive and Aloe that I have found works fabulously. Featured in Elle Magazine in May 2008, the main ingredients are… (drumroll please)… olive oil and aloe vera. I'll bet you wouldn't have guess that, eh? All kidding aside, olive oil and aloe vera are two very soothing emollients that make this lotion an absolute dream for wintertime. The lotion also contains lavender and chamomile, both known for calming the skin. And while it does contain these oils, you cannot smell them at all; it is very literally "fragrance free".
Aqua, Stearic Acid, Isopropyl Palmitate, Vegetable Glycerin, Cetyl Alcohol, Sodium Borate, Aloe Barbadensis (Leaf Juice), Olea Europaea (Olive Fruit Oil), Avena Sativa (Oat Protein), Butyrospermum Parkii (Shea Butter), Helianthus Annuus (Sunflower Seed Oil), Lavandula Angustifolia (Lavender) Extract, Chamomilla Recutita (Matricaria Flower Extract), Foeniculum Vulgare (Fennel Extract), Sambucus Nigra (Elder Flower Extract), Calendula Officinalis (Flower Extract), Citrus Aurantium Dulcis (Orange Flower Extract), Salvia Officinalis (Sage Leaf Extract), Achillea Millefolium (Yarrow) Extract, Prunus Amygdalus Dulcis (Sweet Almond Oil), Xanthan Gum, Retinyl Palmitate (Vitamin A Palmitate), Tocopheryl Acetate (Vitamin E Acetate), Allantoin, Lecithin, Cetyl Esters, Polysorbate 80, Squalane*, Titanium Dioxide, Trisodium EDTA, 1,2 Hexanediol (and) Caprylyl Glycol, Phenoxyethanol, Sorbic Acid, Citrus Aurantium Dulcis (Orange Peel Oil), Citrus Nobilis (Mandarin Orange Peel Oil), Citrus Medica Limonum (Lemon Peel Oil), Citrus Grandis (Grapefruit Peel Oil), Evernia Prunastri (Oakmoss Extract), Viola Odorata (Flower Extract)
*Olive derived